Category Archives:
Musical
Wandering through the foggy woodland
breathing the musty sods
twilight is upon us
skulking through murky, moldy dunes
A bridge is upon us,
filled by webs and fueled by decay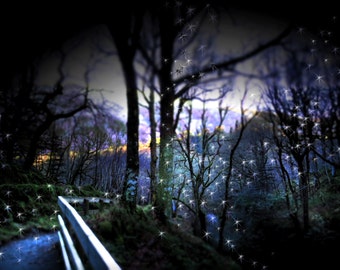 creakingly pivoting,
summoned by the dark, looming loch
Walking through the unstable path,
fixed upon the scrutiny of the unknown
-the fae beckons-
as you slowly gather up the storm
Walk, and walk you must
through the darkness you shall pass
until the shire comes at last
until your truth unfolds
until the embers dim to you
I believe in the sun, and the warm it exudes. 
I believe in the moon, the stars, and space. 
In the sound of the wind against my face. 
The chill of winter on a morning's breath 
I believe in the heart, emotions palpitating…
In the sea and its temperament
I believe in starting clean, and the opportunities it can bring.
In children's smile on Christmas day
I believe in the fall, the grace in nature's death
I believe in the spring, the phoenix's birth 
In the meadow, the forest, 
the burning heats of men…
I believe in the cloud terrain after the kiss of rain
the shadows if a flamboyan tree under it's rest
I believe in the torments that life brings 
in the act of weeping, the mourning of a death
I believe in the sun, and the warm it exudes
I believe in the crater of the moon, 
in the rouge meteors that scar the sky
I believe in the frigid winter winds against my skin
freezing my bones, and frosting my soul
But most importantly
I believe in you… 
Author's Notes: Here you have my first poem of 2014. I was inspired by the Composer Ola Gjeilo's "Across the vast eternal Sky". Something I have learned about life in the last couple of months is that we should never stop believing… I hope you enjoy. Happy New Year! 
-Musical Poetry 
i thank You God for most this amazing
day:for the leaping greenly spirits of trees
and a blue true dream of sky; and for everything
which is natural which is infinite which is yes
(i who have died am alive again today,
and this is the sun's birthday; this is the birth
day of life and of love and wings: and of the gay
great happening illimitably earth)
how should tasting touching hearing seeing
breathing any–lifted from the no
of all nothing–human merely being
doubt unimaginable You?
(now the ears of my ears awake and
now the eyes of my eyes are opened)
e.e. cummings
1894-1962
I dreamt of us smiling without stopping
smiling with no problems
Alone. In peace
I dreamt of us. We were happy.
Away frm here, finally in our home.
I dreamt of you
of you and I
I dreamt and dreamt and I will dream without stopping
for this dream will become reality
I  won't stop until I can achieve it
because together we'll beat the odds
and together we shall triumph
I dreamt of the nights
the nights I cried for you
because you weren't here
because you weren't there
because distance is a bitch,
a bastard who robs us of our sleep
our peace
our calm
and with only a kiss…
a kiss, is all I need
I dreamt of you
alone, in the darkness
with the past, trying to escape
screaming,
crying
calling out for me…
and here I was
asking, begging
willing to sell my soul to the highest bidder
just so that I could be there & comfort you
so that I could be there & cover you
heal what ails you or
transfer it all to me
so that you can finally heal
And so, I dreamt
of your caress
I dreamt of how perfect you are
even though you say the opposite
I dreamt of you
I dreamt of me
of how perfect we are for each other
even though we fight
even though we know we're not perfect
but in that imperfect-cy we are one
for I looked for you, and you to me
and finally,
we are together
I dreamt of us
of our future
even though it's far away, time goes quickly luv
and we'll finally have what we want:
A house.
Our company.
Our love.
I dreamt of us
of us, smiling without stopping
with problems, but fighting together
in peace
I dreamt of you, and we were happy
away from here
finally, in our home…
Traduction from "Soñé"
-mp
This is the second post in the "Murmure dans le vent" series. This post will be showcasing the third movement in Tchaikovsky's "Serenade for strings" in C Major. I know I sort of cheated (jumping the second movement), BUT you know how the muse is… she eluded the second movement & something just clicked with the third one. Fret not, my dear reader! The second movement will come soon.
Bloggers Note:
This will be a first in four posts based on Tchaikovsky's Serenade for Strings in C major Op.48. This piece composed by Peter Ilich Tchaikovsky in 1880 has four movements. If you are not familiar with this I'll explain it very simply!
When a composer, well composes, he/she thinks just like an author thinks in writing a novel. "Serenade for Strings" is the title of the "novel", but the "novel" has various chapters. In classical music, each "chapter" (aka. movements) will have a title. The text, for example I have a project where the "main title" is "You and I" and a movement (chapter) is "My heart is not ready to take off". In classical music, if somebody's work has a title like in the examples above we classify said work as programmatic music. Programmatic music is a piece of art whose title alludes to something else.
Tchaikovsky's "Serenade for Strings" has 4 movements:
Pezzo in forma di sonatina: Andante non troppo — Allegro moderato
Valse: Moderato — Tempo di valse
Élégie: Larghetto elegiaco
Finale (Tema Russo): Andante con spirito
In this case, Tchaikovsky used tempo marking (which gives the orchestra, in this case, how they should play the score). Tempo markings are usually in Italian, but they can be in French, English, German or Russian.
I hope you enjoy this mini-series!
Lately, I've been overthinking. More than usual. I've been pondering in my relationship. I've ben pondering in my relationship with peers, friends, and professors. I've transported myself back to the time where it felt just like this one. I call it the Great Depression of 2008. But (there is always one, isn't there?) it's not.  The circumstances are not the same. Many things are similar, financial problems, for instance is one of them. Also, it reminds me when I started in studying music in 2002. In short, I rediscovered or should I say reaffirmed that everything is a cycle. The good things and the bad. But in everything that has happened to me. In all these almost 24 years, there has been one single common factor: Music. My One winged Angel.
When I started studying music in 2002, I was bullied. I never wanted to accept it (as many things about myself, my reality or my life), but I did struggle with it. My defense mechanism is to over-work. So I became more of a workaholic (if it can be possible). I also became (more than ever) distant with my reality and the people who were close to me, and acted as if everything were peaches & cream. My family (who I believe never noticed anything, I am a good actor when I need to be) finally let me take music classes. So, I poured myself into the only thing I could. Music. I also did my academics, but who cares! I had MUSIC from 4:30 to 6:30 from Monday to Saturday. I made my own little universe of pitch, tones, harmonies and I stayed there. I did it so much that it was the only thing I could think of from when I got woke up until I would fall asleep. I attended Concert Choir, Chamber Choir, Plucked Strings Orchestra, Guitar. Cuatro, Theory Classes, in short everything and anything I could musically. I also founded a Music Club in my school so that I could think about music at school too. After doing all of this, did it work? Did it seclude me from my reality, and most important my problems? I can say yes. Did I learn from it? Yes. Did it help me? Absolutely. Was it maybe a bad way to manage my problems? Yes. Which is why I have tremendous empathy for people who have battled with depression. Everybody deals with depression, rejection, and anxiety in different ways and every case differently. My escape is (and always will be) Music. Sometimes it frustrates the hell out of me. Hell, sometimes it gives me a migraine! Sometimes I take it very, very, very personal when other musicians do a crap job (or don't care). Maybe it's the perfectionist in me but I can't help it. Music has giving me so much, that I just want to do the best.
I struggled, but survived High School. I thought that everything would get better, and for a moment it I was under the aloofn
This time I wasn't really that good at acting. Mainly my brother was the one who noticed. I lashed out on everybody in my family, but kept a happy face and my strong demeanor in my college life. I have basically no social life so (I believe) they didn't noticed. I was the same (even more) nerd that I was on my freshman year and continued to do so. My bachelor is in Musical Education, so I majorly focused on my studies and vowed to "get out of this place and promised myself I wouldn't do what I was living to myself or to my loved ones"ess that everything would. Untill 2008 rolled in. I was in college. I had a good freshmen year. I was getting to know my peers, making new relationships, new friends like Sheila, Glorimar, and Yolimar. And just like "The Last Airbender" scene: "Every thing changed when the fire benders attacked". Everything that was dear to me changed, was grabbed like a lolly from a baby and I was down, again. And I was on the floor receiving kicks. Life intervened again, and just like that self-defense mechanism did too. I had to move from my house (to my sisters and then to the apartment where I currently reside). I had to basically sell (most) of everything I owned, because it was "no longer mine". Everything changed, and so did I.
During my passage through the Music Institute I was always keen in Conducting (especially to Choral Conducting), and my musical mother Fombe, noticed. She basically took me under her wing for the past decade, and she made me a chorister, a singer but most important a teacher. When I was in college my passion for Music Investigation was Prof. Laracuente. My love for writing flourished tenfold thanks to Doctor Mercedes Torres. My love for Choral Conducting (and the one who gave me as much opportunities to cond
uct) is thanks to Prof. Ruben Colón Tarrats. But  there was one professor who taught me the most about musicianship. That was Professor Freddie Feliciano (AND) Aponte (because I have a mother!).
Professor Freddie Feliciano (and) Aponte is the one who basically told and taught me to believe in myself. He was the one who told me that if I have a talent I must share it, the one who told me one day that I must love and let myself be loved. The one who basically flat out told me (very sassily) that I have all the passion, talent, but "most importantly the drive, and motivation" to do anything I want in my life is Prof. Freddie Feliciano.  Freddie is an amazing person.
Freddie (because that's one of the things I love about my music department, the professors encourage you to call them by their name) showed me who a musician is, how a musician should act, and how a musician reacts to to the world around him/her. Freddie taught me not to give a damn about what other people think about you. Freddie taught me and rekindled (just as did Kevin) my love for languages, especially the French language. It never occurred to me HOW much he taught me. And the only thing I can think about is the same question I have to all the professors mentioned above… "You've taught me so much. More than I have ever imagined. How can I repay you?" I read an article a week ago. In the article Dr. James Jordan from Westminister Choir College asks this to his mentor. Her reply was "Light a candle in every student you meet. That is more than enough." I can say that I met Freddie in a crucial part of my life. And I can say that he's another One Winged Angel I have in my life.
When I finished my bachelors' degree I knew I learned a lot. From my personal life to my personal life. What I can say from both is that no matter what may happen to me, how I feel or what life can throw at me… I have Three One Winged Angels: Music, Freddie, and Kevin. In my life, these two people and music have done so much to me that they can't even imagine how they have changed my life for the better. Kevin, Freddie, and Music literally and figuratively they have saved my life. I only wish Kevin, and Freddie have One Winged Angels as I do. As for Music? I believe she's an angel who has saved many and still has more people to save.
I wish I could stop this feeling
That I could stop this pain
Wish I could stop this anger
boiling through my veins
I wish you did something
(something) I couldn't forget
Something unforgivable
Something insane
Something insane
You'll be the death of me
you'll take me to my grave
But death will be sweeter
when I whisper your name
& together we will be
together in our pain
together in our sorrows
together… again
I wish I could forget you
and the time we spent (yeah)
I wish I could find
someone to fulfill this space
this space you left inside me
that will forever stay
You'll be the death of me
you'll take me to my grave
But death will be sweeter
when I whisper your name
& together we will be
reunited in our pain
together in our sorrows
forever in our hearts
Forever we will stay
Your kisses defy death
Your touch keeps me alive
Don't let me know
if you forget about me
or if you found another man
I know I'll just stay here
keeping death by my side.
Crystal clear sky
Moon shining high
From a window, I can see
everything we have,
everything we can be…
In a distant land, they've told me
A mother holds her treasure
uncomfortable from the cold
warmed by her faithful companion
wishing to give something more…
…A wanderer stops, searching for heat
Boys and girls wait for their favorite day.
People rejoice, laugh and play
A humble tree, decorated, and sparkling shows
"The most wonderful time of the year"
Mistletoe, wreathes, and cookies
decorate our home, while our Rudolph
lays beside his gingerbread abode.
In the twilight I know
-just as the snow slows-
everything we've been,
everything we've known
all the memories unfold
Our first hello,
Our first goodbye,
Our first kiss,
Our lullaby
And here we are,
Together, at last
Together as one
In our first Silent Night…